WHO WE ARE:
A network of clergy and congregational leaders from global communities of faith committed to ending and preventing the violence against women, children, and their families.
VISION:
To engage clergy and leaders of all global faith-traditions on their unique role in creating safe, stable, and nurturing families by elevating protective and promotive factors and sharing the science of prevention.
MISSION:
To make all houses of worship and their leaders, trauma-informed centers of hope and resilience.
1.to promote "positive" childhood and family experiences
2.to promote the teaching of the epigenetics and neuroscience of the brain
3.to mitigate and eradicate "adverse" childhood and family experiences
4.to examine the affects of generational and historical trauma
5.to help families know that trauma can be replaced by hope and resilience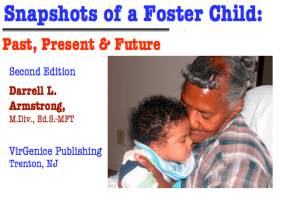 Snapshots of a Foster Child (2008) chronicles Rev. Darrell L. Armstrong time in foster care in Los Angeles.
FOR MORE INFORMATION, CONTACT US BELOW
or call Reverend Dr. Darrell LaRue Armstrong - (609) 392-0034