The Lenora M. Green Freedom School Of Trenton PROGRAM
The program was inspired by the "Freedom Summer" effort which was a major campaign of the Civil Rights Movement led by the late Rev. Dr. Martin Luther King, Jr. and other social activists like Marian Wright Edelman, the first black woman to be barred in the state of Mississippi.
In addition to the summer camp experience, the Trenton Freedom School also endeavors to provide year-round academic tracking for students to help them foster interest in Science, Technology, Engineering, Arts, and Math outside of the traditional school setting, and to encourage them to continue with advanced courses while in High School. Students will have additional access to Job Readiness, Resume Writing, Team Building and College Prep Workshops.
Contact:
The Lenora M. Green Freedom School Of Trenton
Enrolling students currently in grades K - 8
Enrollment for this program is FREE
For more questions, please call -
 609-392-0034
Enrollment for 2023 will be available in March 2023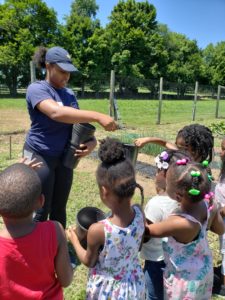 The Lenora M. Green Freedom School Of Trenton's Servant Leader Interns
For Servant Leader Interns:
Enrollment for this position for Freedom School 2023 is now open. Applications are due April 30th.
APPLICATIONS ARE OPEN - EMAIL DJOHNSON@SHILOHCDC.ORG
Program Information Session - Saturday March 11, 2023 at 11:00 am at Shiloh Baptist Church
More information can be found HERE
The Lenora M. Green Freedom School Of Trenton NEEDS YOUR HELP!
Contribute to our program by donating using our Amazon Wish List.
This list was created to supply 80 deserving children from Trenton, NJ with the materials they need to have a successful summer at the Shiloh CDC Freedom School. Our program is presented through the Shiloh Community Development Corporation, a non-profit in Trenton, NJ, and the Children's Defense Fund. We serve summer programming to our participating families for their elementary and middle school aged children and focus on reading skills, conflict resolution skills, and social action. Our goal is to give our students the summer experiences they might not otherwise have due to inability to afford other programs. Any and every donation is appreciated and will be put to good use!
Thank you!